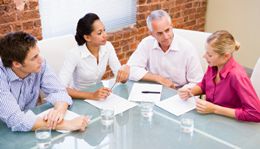 Dealing with conflict is never easy. We understand that, because since 1979 we have helped thousands of people successfully resolve all sorts of disputes. We do everything we can to help you through the process.
What is Mediation?
If you're new to mediation, learn the basics in Understanding Mediation and our Mediation FAQs.
Fees
The cost of our services varies depending on your income level. We use a sliding fee scale, which supports our goal of making conflict resolution services available to all members of the community. Learn more about our fees.