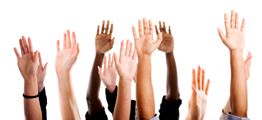 Volunteer
CDSC's roster of pro bono Mediators is comprised of over 65 volunteers who all donate their time and expertise as mediators. Their level of volunteerism enables CDSC to accomplish our mission with an extensive community reach ... and translates to our being a very cost-effective investment to funders who appreciate the value of what we can leverage with this significant volunteer effort.
Our mediators come from a variety of backgrounds including the legal community, social services, education, business, and mental health, and contribute their services pro bono. They are highly trained and experienced in a variety of dispute resolution areas.
Interested in becoming a CDSC Volunteer Mediator?
Pre-requisite: minimum 30-hour Mediation Training.
Intern
CDSC offers year-round internship opportunities to students at all levels -- undergraduates, graduates, and post-graduates. We welcome students in the fields of social work, law, communications, and business development, who will all find opportunities to explore their interests in alternative dispute resolution.
We carefully match the learning needs and professional interests of each intern with CDSC's current program needs and on-going activities.
Minimum commitment: 2 days/week
Range of activities, depending on an intern's background and experience:
Direct client contact, assisting with intake interviews and arranging mediations
Outreach & Public Education, promoting mediation and training services to target client populations
Non-profit Management, learning about the operations of a small non-profit
Event Planning, assisting in all aspects of annual fundraising event
Other Volunteer Opportunities
Bring your expertise to CDSC as a Volunteer Consultant. Inquire about involvement on our Board of Directors. For example, help is needed in the following areas:
marketing & communication
event planning
fundraising/development
program evaluation
technology and social media
Donate
As a 501(c)(3) non-profit, CDSC depends on grants, nominal client fees and the generosity of corporate and individual donors to continue providing affordable mediation and training services to the community. We count on your generosity to sustain our core services and to help us meet emerging community needs. Your support helps us to build bridges, person to person, face to face.
You can become a "Friend of CDSC" by:
Donating to our annual Friends Appeal anytime throughout of the year
Sponsoring the Gala, CDSC's signature fundraising event, by selecting a level of Sponsorship or being a Table Host
Join Our Mailing List
Keep up with CDSC: Find out about events, new programs and upcoming training sessions.